DermaBind: Revolutionizing Wound Healing
Experience the next generation of wound care with DermaBind, an innovative dehydrated intact placental membrane covering designed to preserve the comprehensive collagen matrix, glycoconjugates, glycosaminoglycans, and naturally occurring cytokines and growth factors. Our cutting-edge preservation method sets DermaBind apart from other placental allografts on the market, offering a product with an unparalleled composition, containing over 640 proteins that facilitate healing and improve patient outcomes.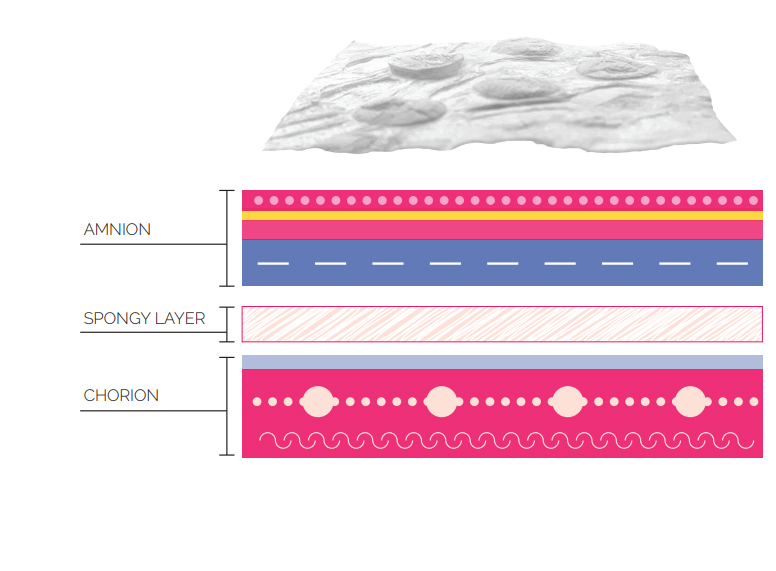 Dermabind
DermaBind is a dehydrated intact placental membrane covering that preserves the comprehensive collagenmatrix, glycoconjugates, glycosaminoglycans and naturally occurring cytokines and growth factors.
Available in a wide range of shapes and sizes
Maintain at ambient temperature prior to patient application
May be stored for up to 3 years at room temperature.
Experience the Dermabind Difference
Our unique approach to placental wound covering offers numerous benefits for healthcare providers and their patients:
No separation of membranes and no removal of the intermediate layer, ensuring a clean and safe product
Preserved structural components for optimal healing potential
Naturally present cytokines and growth factors, without the need for artificial binding or fusion of membranes
Outperforms epifax and collagen sponge products by weeks, leading to faster healing times and improved patient satisfaction
Complete epithelization in 4-6 weeks compared to the national average of 12 weeks, making DermaBind a more cost-effective option for wound care
Case 1
Diabetic with large wound
One Week Post DermaBind
Diabetic with large wound
Two Week Post DermaBind
Greater than 50% Epithelialization
6 months Post DermaBind
Excellent Quality Epidermis
Superior preservation method retaining all native layers of the placental membrane
Physician-friendly and easy to apply
Versatile use for a variety of acute and chronic wounds
No unnecessary chemicals, antibiotics, or preservatives
Can be stored at room temperature for up to 3 years
DermaBind is designed for use as a protective wound covering for a variety of partial and full-thickness wounds, including:
Wounds with exposed bone and tendons
Diabetic foot ulcers (DFUs)
Transform Your Wound Care Practice Today
DermaBind is available in a wide range of shapes and sizes to suit various wound types, making it a versatile addition to your wound care arsenal. Don't miss the opportunity to enhance your patients' healing process and improve their quality of life. Experience the difference that DermaBind can make in your practice.
Take the
First Step

Toward Better Wound Care
Ready to revolutionize your approach to wound healing? Contact us today to learn more about DermaBind and how our innovative product can benefit your patients. Our team of experts is ready to assist you in incorporating DermaBind into your wound care practice. Click the button below or call us at 949-521-1961 to get started.